Puketapu Grove in Waiwhetu, Lower Hutt, derives its name from the Puketapu hapū. Their most prominent member was Īhāia Pōrutu Puketapu, O.B.E. (1887-1971) of Te Ati Awa. Īhāia Pōrutu Puketapu was a respected Māori leader who made significant contributions to the community, culture, and history of the area. The decision to name the street after him was made by the former Mayor of Lower Hutt, Percy Dowse, as a way to honor Puketapu's legacy and the rich Māori heritage of the region.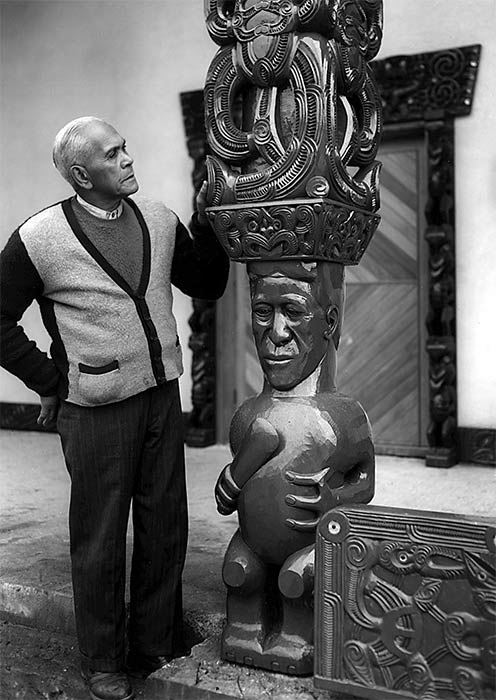 Īhāia Pōrutu Puketapu, a prominent leader of Te Āti Awa, was born in Waiwhetū, Hutt Valley, on February 7, 1887. He belonged to Te Matehou, Hāmua, and Puketapu hapū of Te Āti Awa, and was also of English lineage. At a young age, he was taken to Te Whiti and other elders of Parihaka in Taranaki to learn his people's ancient teachings and philosophies. This experience shaped his life as he carried out Te Whiti's mission of promoting goodwill and cooperation between Māori and Pākehā in Wellington.
Puketapu worked as a freezing-works butcher, roading contractor, and building laborer while maintaining strong ties with the New Zealand Labour Party, Māori MPs, and leaders. He was a key figure in advocating for Māori rights, leading to the Māori Social and Economic Advancement Act of 1945. He successfully negotiated with the government to build state houses for Māori and ensure that his people remained together.
As the Māori population in the Hutt Valley grew, Puketapu helped establish the Te Aroha (Hutt Valley) Māori Association to organize sporting and cultural activities for the community. He was instrumental in raising funds and overseeing the construction of the meeting house, Arohanui ki te Tangata (Waiwhetu Marae) which symbolised the fulfilment of the prophecy given to him by Te Whiti. The house became a focal point for both Māori and Pākehā communities. In recognition of his service to the Māori people, Puketapu was awarded an OBE in 1960. He passed away on July 1, 1971, survived by his second wife, six daughters, and three sons.