Named after James Kingston Stellin, born 1922, only son of Beatrice Hart and James Stellin. He was a small boy when this subdivision took place. The name has royal connotations and in the tenth century several Anglo-Saxon kings were crowned at Kingston-on-Thames. The former royal palace of Hampton Court is nearby.
James Stellin was a New Zealand Pilot Officer. His damaged Hawker Typhoon fighter-bomber rapidly lost height, Pilot Officer James Stellin struggled to avoid crashing into Saint-Maclou-la-Brière, a village of 370 people in the region of Normandy, France. He succeeded, but at the cost of his own life. The villagers gave him a hero's funeral and have honoured his memory ever since. i
His parachute failed to open at low altitude, and he smashed into an apple tree and was killed.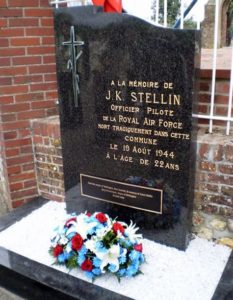 The people of Saint-Maclou-la-Brière later engraved Stellin's name onto the war memorial for the dead of their own village. In 2001 the area in front of the St Maclou church was named 'Place Stellin' in recognition of James Stellin's sacrifice.
Stellin Memorial Park in Northland, Wellington is also named after him. His father James Stellin had bigger ideas to honour his son's death. He owned a substantial piece of ground high on the southeastern slope of Tinakori Hill.
When he died on April 4, 1964, his will made provision for the Tinakori site to be given to the city as a memorial to his son, and it included a bequest of £2000 to build a lookout and install a plaque on the highest boundary, off Orangi Kaupapa Rd.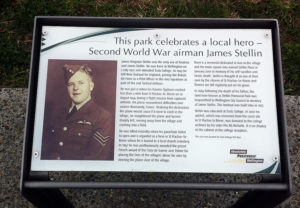 The creation of Stellin Memorial Park, today largely covered in scrub but threaded by popular walking tracks, is all that remains of the Stellin family's bequest. It almost didn't fulfil the benefactor's stated wish.
When the urban motorway project in the 1960s forced the United States ambassador to find new digs, the city council persuaded Stellin family survivors to agree to a bill of Parliament that would amend the family trust's obligations and allow the ambassador to build a new residence on the site of the park.
There was hue and cry, and the council's plans, and objections to them, were aired in The Evening Post. The plan was shelved, and the ambassador found new premises at Woburn Rd, Lower Hutt. ii
Kiwi pilot's sacrifice saves French village 19 August 1944[↩]
The Dominion Post. "Honoured in France, now remembered at home". 18 Aug 2007[↩]